The delivery of your shipment is carried out under complicated rules that are hard to navigate: customs offices demand different stamps, certifications and other requirements, which differ in each country. Together with transport, we also offer to take care of all formalities at customs offices in the Czech Republic, other EU countries and the rest of the world from the beginning to save your time and worries. We are fast, thorough, and we also offer our own customs warehouse, so you also save a lot of money.
Complete service
We handle all essential customs requirements.
Customs declaration
for fast and trouble-free completion of customs formalities.
Simplified customs procedures
to speed up the customs clearance of your shipment.
Intrastat reports
including data reporting.
Import, transit, and export customs declarations
type EX, T1 and T2.
Proofs of origin and status of goods
type EUR.1 and AT.R.
Customs debt securing
in all customs regimes.
TIR and ATA carnets
for special journeys outside the EU.
Customs warehouse full of benefits
Store imported goods from abroad in our customs
warehouse and make use of the following benefits.
Save time
Store your goods in the customs warehouse and eliminate the complex paperwork at customs offices.
Save on customs payments
By storing your goods, you are not immediately required to pay customs duty, VAT and excise tax.
Divide your costs
Release the goods into free circulation gradually and divide your costs.
Re-export easily
If you're further distributing goods, you avoid lengthy VAT refund procedures. The payment of customs fees is eliminated completely.
We cooperate with offices around the world We talk directly to Czech customs offices every day. For communication with officials in European countries and the rest of the world, we use regular external partners.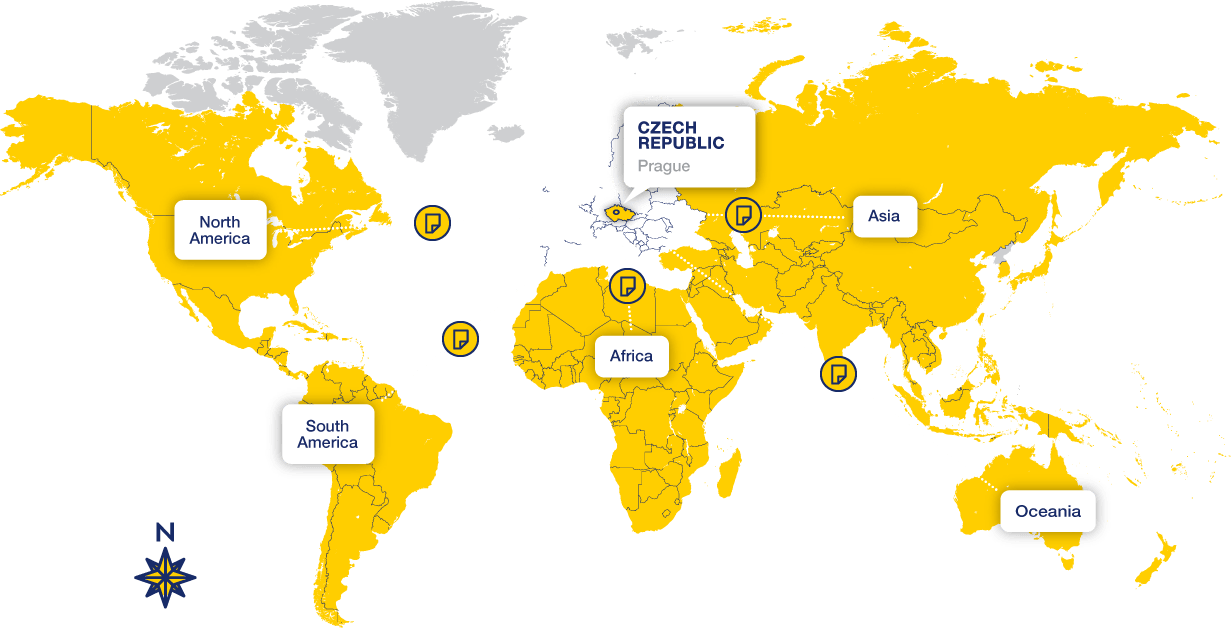 Why are we the right choice for you?
We're fast
We will respond to your inquiry within 2 hours with a specific offer. You will not wait for us.
We feel at home at customs
We regularly take care of customs formalities for dozens of customers.
We know our way abroad
We regularly take care of customs formalities outside of the Czech Republic for our foreign customers.
We're experienced
We've been successfully securing customs services since we were founded more than 27 years ago.