Use our storage services and always stay close to new opportunities. Our warehouse meets the latest standards. It is directly by the Václav Havel airport, where we also have exclusive access, and it's connected to the main roads and transit sheds. With an area of 12,500 m2, we offer all main storage regimes, including our own customs warehouse, which offers unique advantages.
Warehouse that is constantly on the move
Take a look at basic facts
for smooth receiving and sending of goods.
we dispatch every day on average.
goes through the warehouse every day.
the warehouse is monitored by cameras, fire detectors, and alarm.
has our check-in system for driver dispatch.
our entire warehouse operates in accordance with ISO quality standard.
Site full of services
Storing is just the start of our offer.
Customs warehouse
Suitable for reexports; you'll save on customs duty, VAT and excise duty.
Entry to the airport complex
Make use of our unique entry to the SRA zone at the Václav Havel Prague airport.
FIFO , FEFO, LIFO
Storing regimes supplemented by evidence of goods using bar codes.
Crossdocking
It operates 24 hours a day for optimizing storage time and lowering your costs.
Storage from 1 piece
We will take care of your consignment regardless of its size.
Record keeping
From receipt to dispatch, we are able to track batches, shelf-life or order.
Completion
We assemble, repack, calculate or modify the goods according to your wishes.
Directly on the intersection of European transport Our warehouse is situated at the CTPark in Kněževes. Thanks to its location right next to the airport and near large container terminals, it offers direct connection to the rest of the world. From here, goods are headed to the whole of Europe, Russia, the USA, Canada, China,
Japan, Myanmar, Australia or Ghana.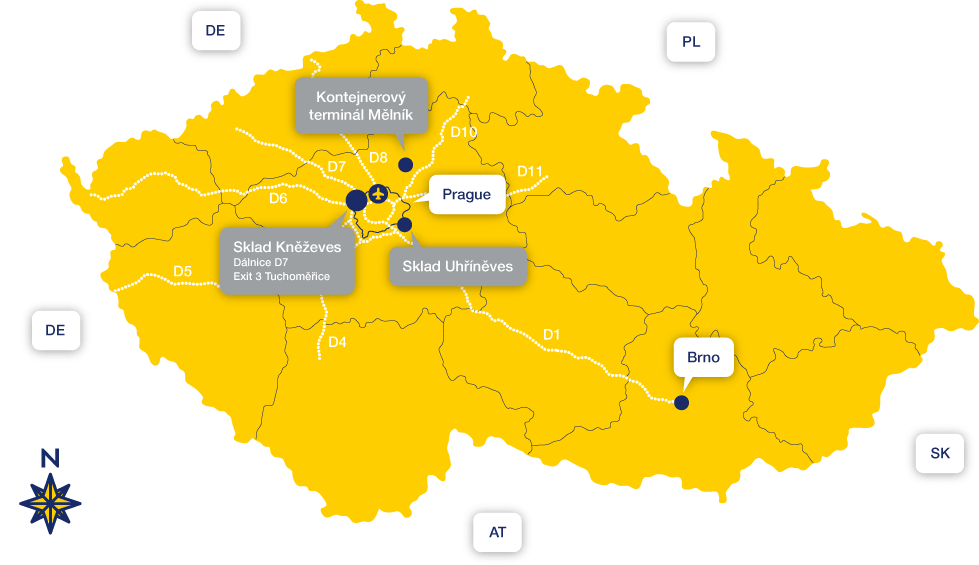 Why are we the right choice for you?
We're fast
We will respond to your inquiry within 2 hours with a specific offer. You will not wait for us.
We're experienced
We've been devoted to individual consignments for more than 20 years.
We believe in proper insurance
All stored goods are fully insured up to CZK 20 million.
We have a comprehensive understanding/knowledge of storage
We will help you with transportation, customs declaration and other matters concerning storage.